I'm sure you've seen some Tot School posts on my blog recently and you may have no idea what they are, so I'm going to tell you a little about them. I subscribe to over 150 blogs... Yes, really. There are a few that I absolutely love and consider them a must-read. One of my favorites for the kid stuff is
1+1+1=1
. Carissa is awesome! She has compiled ideas from all over the place and now shares them with all of us! The best part, if I could only pick one is the
Tot Books!
They are mini-lapbooks that are special for tots! If you have a tot you need to go visit Carissa and see all of her ideas and resources! You'll see why I'm sharing this on a Thursday!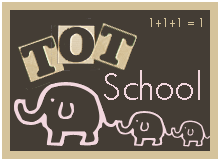 Don't forget to go say hi to the creator of
Things I Love Thursday!