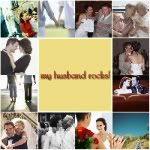 This week is going to be a bit different (and a little late). Katy Lin over at
The Great Adventure
has started something wonderful that I have to share!
31 Days of Praying for our Husbands!
You need to go check it out! My husband rocks and this is what I can be doing for him! If your husband could use a little help then you had better get over there, too!
Excerpt from Katy Lin at
The Great Adventure:
Day 1
Pray that your husband will grow spiritually and consider his accountability before the Lord. Pray that he will guard his heart by developing spiritual disciplines—Bible reading and study, prayer, meditation, scripture memorization, etc.
2 Peter 3:18 (New Living Translation)
Rather, you must grow in the grace and knowledge of our Lord and Savior Jesus Christ.
All glory to him, both now and forever! Amen.
Proverbs 4:23 (New Living Translation)
Guard your heart above all else,
for it determines the course of your life.